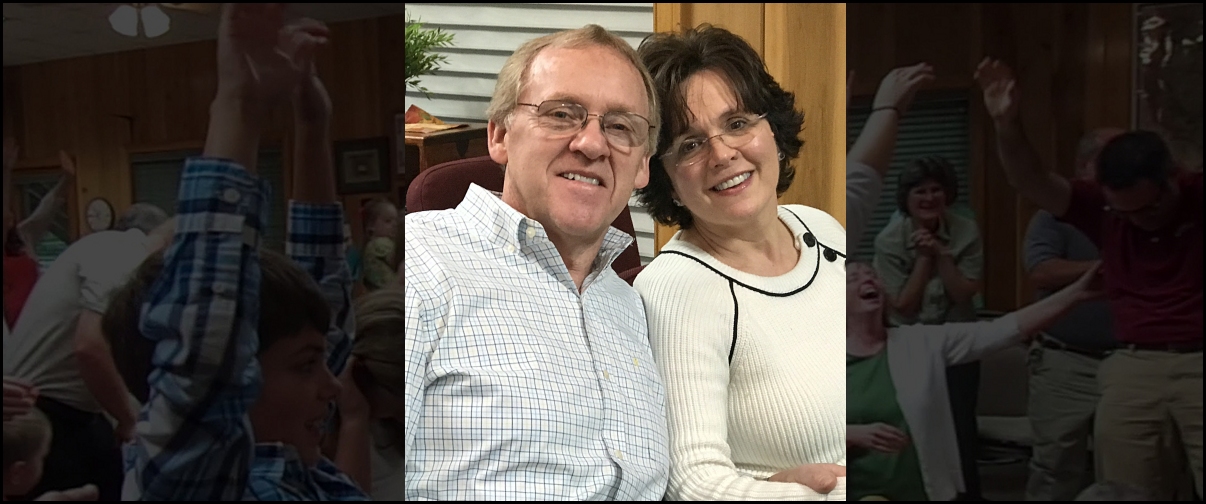 Meet Junior & Natalie Embry
( + Increase Document Font Size | - Decrease Document Font Size )


Natalie's Testimony
I grew up with a single mother in Louisville, KY. She was not able to be a mother to me because of her lifestyle of sin, so I was left from house-to-house; sometimes with my aunts, and at other times with people I didn't know. Then when I was 11 years old my mother took me to a new neighbor where I started school and met a girl named Peggy. Peggy and I asked her parents if I could live with them and they said, "Yes", and my mother agreed.
Jr., my future husband, was the youngest of 12 children. His parents were divorced when his was six years old. He grew up very poor and his mother was in poor health, so he knew that he had to work to take care of himself. One afternoon, a friend of ours introduced Jr. and I to one another. Jr. said the first time he saw me, he heard a voice say to him, "She is mine". Looking back on the scene that day, he knew it was Jesus who spoke to him.
We were married six months later in October 1975 and as you could probably tell, neither of us were living a life for Jesus; we knew nothing of how to have a marriage. All we knew was that we did want a better life than what we had been shown. After a few years of having an ungodly marriage, we were on our way to a divorce. Our marriage was getting so bad, that one afternoon I told Jr. that I was going back to a Holiness prayer meeting I had attended as a little girl. I asked Jr. if he wanted to go with me and he reluctantly agreed. Jr. received the holy Ghost just four months later, I had received the holy Ghost at age 13. This turned out to be the beginning of our new life in God.
We met Pastor John from North Carolina in the early 80's. We were young in the Lord and were hungry to know more of the ways of Jesus, so we started making trips to N.C. to be in home prayer meetings where Pastor John lived. They (the ones who gathered at those prayer meetings) had so much more of God than we knew. Through these wonderful Godly saints, we began to learn how to treat each other. Pastor John taught us the importance of having a right relationship with each other and much more about the way of Holiness.
Jr. and I have been married 38 years now, and we have a home and a family. Jesus has always done His part. He picked us up from the road we were heading down and put us on a path (of life) with Pastor John and those Godly saints where we needed to be, and where we are fed the good things of God. Because of this, we have a marriage that has been saved and nurtured by Jesus.
Natalie Embry (July 29, 1960 - April 8, 2021)
---
Junior's Testimony
When I was sixteen, a friend of mine introduced me to three girls, and one of them was Natalie. The first time I saw Natalie, I heard a voice inside say, "she's mine". I took it to mean that she belonged to me, but through the years I believe the Lord was also telling me that she belonged to Him.
Several months later, we got married at a very young age, and our lives were worldly and very unhappy in sin. Natalie would get in the bed at night and cry, and say that she wanted to go back to "that place", a prayer meeting she went to as a young girl, and that she wanted me to take her.
So we went to the prayer meeting where we lived, in Louisville, KY. There I saw people speaking in tongues for the first time. After a few months I had an experience where Jesus touched me, and my leg started trembling. It was the first time I felt the power of God. Not long after that I went up for prayer and received the baptism of the holy Ghost.
A few months after that, Pastor John visited our group in Louisville and I could just feel there was more. We started traveling to North Carolina and felt the love of God from the saints there. Pastor John then started coming to Louisville and taught us the Old Testament, and how to care for one another's hearts. It changed our lives, and our children's lives.
Before Pastor John came, we weren't around people who valued marriage or education. My parents were separated when I was six, so having someone like pastor John and Barbara, and his father and mother, was an influence that made us want to live right, pay our bills, take care of our children, educate them, and so much more.
Thirty eight years later, the work that Pastor John has done, and his help in our lives is the reason we have a marriage. I am very thankful today for what Pastor John has done for my family and me for all these years.
Junior Embry