Lyn Hammonds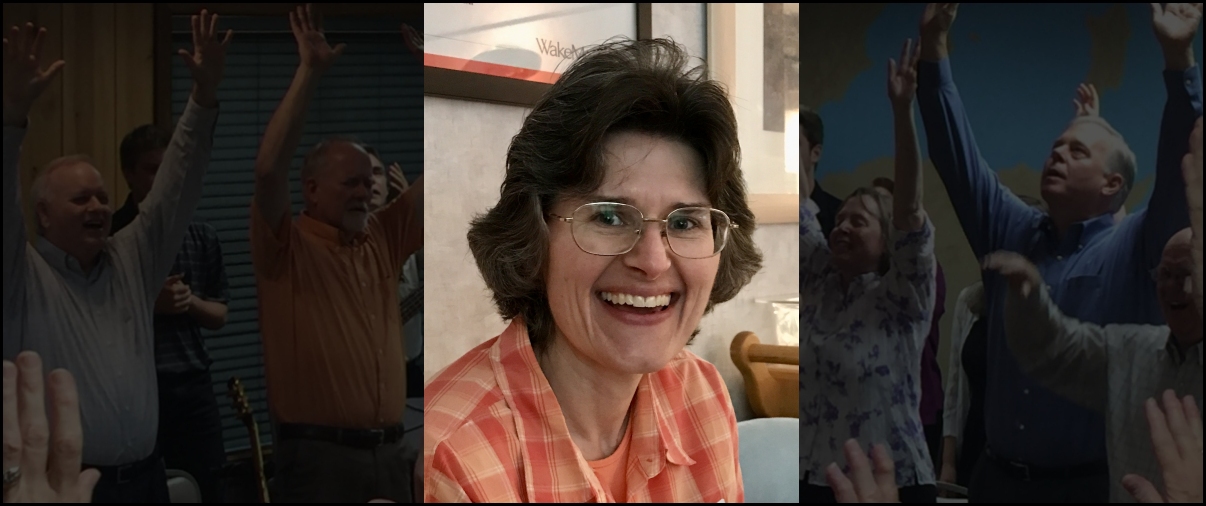 "What God has done for me."
( + Increase Document Font Size | - Decrease Document Font Size )


My first memory of God dealing with me was when I was a small child. My grandmother had the holy Ghost and wasn't ashamed to speak in tongues around me. My parents were divorced, and on one occasion that I visited Grandma she was asking a lot of questions that made me uncomfortable. I prayed silently and asked the Lord that if He was real, to make her be quiet. Grandma lay on the couch and started speaking in tongues. She asked me if she was bothering me, but I told her "no". Then, she told me that the Lord had told her to leave me alone, and that she was going to do just that. God had given me a sign that He was real!

I appreciate that my grandmother let the holy Ghost show up on her around me. In later years when God began drawing me to Him, and I read in the Bible "if any man have not the spirit of Christ, he is none of His", I didn't have to question what the Spirit was, and I knew I did not have it.

I moved to Florida when I was 19. One thing that moving did for me was it helped me to get away from the people I was hanging out with. God was beginning to deal with me, and I was becoming sick of the lifestyles that they lived. I was miserable, but it seemed that I could not make myself stay away from them. Moving helped me break those ties.

A friend of mine went to Florida with me and towed my car the whole way. (I didn't trust it to make a 500 mile trip.) We found a cheap attic apartment with running water, but we didn't have enough money to pay for the gas hook-up, so we had no stove to cook on and no hot water. It was hot summertime when we arrived, so cold showers were not so bad. We fought from the beginning. It wasn't long before my friend wanted to bring marijuana into our home. I didn't want that at all. I was trying to get my life in order. One day, I returned home from work and found no trace of my friend or my friend's things. God had rescued me from having a roommate who did not want to live right.

Although I didn't know it at the time, my mother, back in North Carolina, was asking prayer for me from sister Lou, one of the people who meet at Pastor John's house. Lou and my mom were co-workers. Lou would ask for prayer for me in the meetings. I didn't even know that the saints were praying for me then, but I know God had His hand on my life in a very big way.

God began to deal with me very strongly. I was short on money and other things, but this was one of the most wonderful times in my life. It was my time to seek God, and I had no one in the way. When my food ran short, God blessed me and took care of me. My job was working at a fast food restaurant. They served me free lunch (a sandwich and fries), so I ate at least once a day. Most days, I was able to eat other meals as well, but on days that I had nothing else, it was a blessing to have that free meal! One time, my neighbors moved, and they didn't have a way to keep all of their refrigerated goods, so they filled my refrigerator with the things they left behind! That was God taking care of me!

I had a Bible, a radio, and not much else, so I read a lot and prayed. I remember a point where I felt like I was living a lie and needed to confess something to a friend whom I had wronged. I felt like I couldn't face the person without feeling guilt, and I couldn't stand that feeling. It was scary because I faced the possibility of losing a friend whom I cared about very much, but as I thought about the consequences of telling the truth to my friend, something inside said to me, "You'd better not lie." It was a stern feeling of being warned that if I didn't tell the truth, I would be in big trouble with God, so I put my trust in Him for whatever the results would be and confessed. God let the person forgive me, and things were all right with my friendship and with my relationship with God. It was a great relief.

My hunger to get closer to God grew. One day as I was feeling this pull to God, I lay face down on the couch and asked God what I needed to do to get closer to Him. He gave me an answer. It was as if I saw a picture of Jesus in my mind, and He said, "quit smoking." The words were not audible, but I know they were from God. I tried from that point on to quit. It was very difficult.

I made some wrong choices and found myself in a dangerous situation just before I left Florida. But God was wonderful and merciful to me, and He rescued me from harm when I looked to Him.

The trip home was filled with more blessings from God. Remember, I didn't trust my car to go far or much over 45 mph, and I was at least 500 miles from home. My mom had a cousin who was a school teacher in North Florida and whom I had never met. Momma called her aunt, who called the cousin, and he agreed to let me stay with him for a few days. He was only 80 miles from where I was! I was relieved that I didn't have to drive far and that I had a place to eat and sleep. I still had hundreds of miles to go, and God was still taking care of me! My grandparents were retired and they were traveling in their RV/motorhome. Guess where they were going to be in just a few days? Georgia! Granddaddy mapped out some directions for me to get to where they were, and I was on my way again. When I met up with my grandparents, my granddaddy had my car checked out and serviced. I stayed with them for a night and wanted to go ahead and get on the road again. I was so ready to be home! Guess what? One of my friends from North Carolina had a mother living in South Carolina. I knew her very well because I had lived with them for a little while. She let me stay with her a night, and then I was headed for North Carolina.

God really rescued me and carried me from Florida to home, giving me a place to rest my car and spend the night in every state on my way. That was a very big thing for me because I was very paranoid about my car breaking down. I was a much humbler person after my experiences in Florida and with God helping me through it all. I was very thankful for hot water to take showers with as well.

Soon after I came home from Florida, Lou invited Momma to a Wednesday night prayer meeting, and Momma asked me if I wanted to go. I did. It was about an hour's drive. I remember John, the pastor, handing me a Bible when it was time to read because I didn't have one with me. He preached on finishing with sin. The message was to come to God when you are finally finished with your sins. Don't lay down your sins, come to God, and then go pick up your sins again. I took that to heart concerning the struggle that I had been having with smoking. I still wasn't free from the desire. I decided to start smoking again, but with the thought in mind that I needed to finish with them. (I wouldn't necessarily say that that was the point of the message, but that is what I did with it.)

Since I was not in school, I needed a job. That was the rule at Momma's. I was fearful and nervous about looking for jobs. I first got a job with a security company that closed within three weeks. Then, I prayed and promised God that if He would give me a job, I would do my best to do a good job and to stay there. (My previous work record was not good.) I got the job that I interviewed for the day that I had prayed that prayer. I was a security officer, and on weekends, no one was on site except me.

The officer who trained me for this job told me that I could bring a book to read, and I felt inside that I should bring my Bible. I had a lot of time on this job to read and to pray. I fact, having to make rounds of that big, dark building at night, alone, was reason enough to pray. It was wonderful. I got even more hungry for God. Reading the Bible, I realized that God is a good God. A couple of times, I felt like God was talking straight to me when I read the verses. One verse that meant something to me was "do works meet for repentance". It was a direction for me to take. I decided to show God that I meant my repentance by not doing the things that I had repented of any more. That is how you show God you have repented.

It was during the year or so that I worked at this job that I received the baptism of the holy Ghost. I was 20 years old. I was at home alone, and I had called someone to help me pray that I would receive it. I remember struggling with doubt about whether God would really give me the holy Ghost. We read the scripture that says, "If ye then, being evil, know how to give good gifts unto your children, how much more shall your heavenly Father give the holy Spirit to them that ask Him?" It seemed like 15 minutes before any words came, and after I was convinced that I had received the holy Ghost, I wanted to get off of the phone and go pray in this new language. I went to my room, lay on the bed and started speaking in the most beautiful language I have ever heard. There was a feeling of comfort that came with it and I remember thinking, "I'm safe now." I spoke in tongues for what seemed like an hour. They were words I've never learned. I didn't know what they meant, but it was beautiful, and it felt very good.

Lou had given Momma a song tape, and I listened to it often. One of the songs on it, "Mark 16", has a line that says, "can you tell me who true believers are?" I was singing this song one day and stopped and asked God would He make me a true believer. There were a couple of scriptures on my heart near this time, and Mark 16 contained one of them. It says, "He that believeth and is baptized shall be saved". Well, I want to be saved. When I read it, I knew I was a believer because I had the holy Ghost, but as far as I knew for sure, I had never been baptized in water...I did not want to either, but if it was necessary for my salvation, I was willing. Another scripture that felt like a commandment straight from God to me when I read it was, "Forsake not the assembling of yourselves together," So, I was seeking for a place to attend worship services.

Since I lived in Florida, I had been paying my tithes and offerings to preachers on TV. I began growing tired of sending them there. For one reason, one of the preachers seemed to be stuck on "gain is godliness" and was spending all of his preaching time talking about money. I wasn't hearing anything new that was feeding my soul. I prayed and asked God where He wanted me to send my tithes. Pastor John was the very first place that came to mind, so that is where I sent them, along with a letter to John Clark, asking him to pray for me, that I wanted to be baptized in water. God had this set up just for me, that John would be the first one I contacted telling him that I wanted to be baptized in water! He would also be the last.

John wrote me back and sent me some tapes on the new birth and when a person is saved. It matched with my experience of not feeling saved, even though I had tried with all my heart to "get saved" when a TV preacher made the altar call. I felt no different. The longing and feeling of need of something from Jesus wasn't relieved. I figured it was just me, that it "didn't take" that time. But it was like a light bulb came on when I heard John saying that salvation is the reward we'll receive at the end of this life. It made sense, and I knew why I didn't feel saved: because I wasn't!

It was at this same time that God delivered me from smoking cigarettes. I had tried to quit and failed over and over again since the Lord told me to stop. It had been at least a year. The rules had changed at my job, and smoking was no longer allowed in the building - so I needed to go outside to smoke. One day as I was reading my Bible, I read these words, "If any man defile the temple of God, him shall God destroy." I knew that my body was the temple, and I knew that I was defiling my temple by smoking cigarettes. I began to fear God would destroy me for smoking if I kept it up. One day, it dawned on me that I didn't really WANT to quit smoking. I went outside and began praying. It was a new thought to me to confess to God that I didn't want to quit. I prayed, "God, I don't want to quit smoking, but I want to because you want me to." And then, this prayer came to me, "If you'll take them away, I'll never go back." For the first time, I felt like I could really say this to God and mean it. It was like God gave me the prayer to pray and put the thoughts in my mind. One day as I sat in my guard station, I noticed that an hour or more had passed, and I had not had a craving for a cigarette. I decided that as long as I didn't feel the physical craving, I would not go outside and smoke. I never had another craving! God completely took all of the hard part out of quitting for me! You can't imagine the ecstatic joy I felt as I woke up in the mornings and my first thoughts were of God looking over me. I wasn't reaching for a cigarette, because of what God had done for me! It wasn't just the cigarettes, God had just made me so happy for all He had done for me!

It was about two weeks later that I began regularly attending meetings of where Pastor John was. It was a relief to find out that I didn't have to be baptized in water - Jesus had already baptized me with the holy Ghost. I was afraid to drive my car for the hour to and from the meetings, but guess what? God fixed that for me too. My step-father let me drive his car every weekend and even on Wednesday nights (when I didn't have to work)! Wendell and Caroline, a couple from the meetings, would let me drive up to Henderson and spend Saturday nights with them and we would go to the meetings Sunday morning. I loved staying with them. We talked about the Lord a lot, and sometimes read the Bible together.

God continued to bless my life. I had wanted a husband, but I didn't want anyone who would keep me from seeking God. I prayed about it. I didn't have any idea about the qualities I was looking for, just whatever God saw I needed that would be best for me. I prayed that neither of us would have any problems that the other couldn't handle, and that it would be someone with whom I could continue to seek the Lord. I figured that it might take a couple of years before God would answer this prayer, but I was wrong. I wasn't going to consider anyone who did not have the holy Ghost or who did not attend the meetings with me. God already had this in the works!

James started going to the meetings about three months after I did. We didn't know each other before then. He got the holy Ghost on a Mother's Day Sunday, and not long afterwards, we started doing things together. We started taking John's Old Testament class together in Burlington, North Carolina. My mom and R.J., a young man who was attending college in Raleigh and who drove home for the meetings on weekends, were also taking the class. James would drive from Henderson to Raleigh to pick me up and then we would meet Momma and R.J. and drive to Burlington. By the time James dropped us off in Raleigh after the class, and then drove himself back to Henderson, he had driven at least four hours or more. But, he kept it up, and I really enjoyed seeing him. I asked the Lord to give me a sign if James was the one He wanted me to marry. When I prayed that prayer, it was early in the morning, and just as soon as I had prayed, the phone rang. It was unusual for me get a phone call that early, but much less from the one who was calling....James! What a sign! Well, that was not the only sign that the Lord gave me, but it was all enough to convince me. One day before the Old Testament class, James asked me to marry him. There has not been a single day that I regretted saying yes. I know it was God who brought it about.

God has answered many other prayers and blesses me still. Whether it be on the job, at home, or wherever. He has touched me in many ways and I'm looking forward to more!